---
---
Three colleagues were all nominated for the 2nd annual New Times Web Awards. Congratulations Jason Leidy, it's official!
Best Artistic Instagram User: @skymongers ❤ Now go get that award and show it off!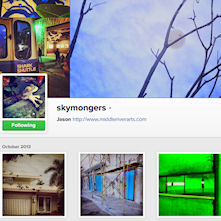 Best Artistic Instagram User  Jason Leidy aka @skymongers 
I'm drawn to this community because of the diversity, the creative energy, and the vicarious thrills. Adding my small bloggy contribution to the collective…
Posted in Connections by on November 15th, 2013 at 12:00 pm.