---
---
As a founding member of the Circle of Wise Women at Junior Achievement of South Florida,  Renée Korbel Quinn was part of the dynamic team that developed the concept for an inaugural fundraiser called Uncorked! With the involvement of Southern Wine & Spirits, the premise was to create a unique event that offered guests the opportunity to experience a wine tasting and food sampling with a party feel without long speeches or presentations.  Imagine attending an event where you can come and go, spend part of the evening or party till the last dance!
Along with chairs Stacie Weisman & JoLynn Lombardi,  Renée took on the task of making this event a success.  As Sponsorship Chair she worked with Diana Metcalf, JA's Director of Major Gifts, to create a sponsorship program as unique as the event itself.  Barbara Capeletti took on the amazing auction and Kit Schulman guided the decor to create one of the best events of the season.  In addition to her committee role, Renée & QuinnProQuo donated Social Media strategic planning,  created and launched  a facebook presence for the Circle of Wise Women and developed integral media partnerships to create awareness for the event.
On October 30th 2010 over 300 guests joined the Circle of Wise Women at the "Moulin Rouge" inside JA World for a memorable evening of indulgence. Senses were delighted with tastings of over 300 wines, spirits, decadent food bites and dancing to benefit Junior Achievement in their new state-of-the-art 60,000 square foot facility, JA World Huizenga Center at Broward College.  Funds raised at this inaugural event benefit the Educational Programming at Junior Achievement of South Florida.

As guests entered JA World, a 59,000 sq. ft. state-of-the art mini-city, they were welcomed by two models in a larger than life bubbling champagne glass. They continued on through the JA Biz Towns enjoying the eclectic array of food including cheese fondue from The Melting Pot, filet mignon sliders from Capital Grille, ceviche from Chef Remi and decadent blue cheese mashed potatoes from White Apron Catering in Lake Worth.  Decadent bites throughout the JA World Biz Towns included BRIO Tuscan Grill, The Cheese Course, Forever Sweet Cakes by Design, Hibiscus Café, Caliente Kitchen, Mojo, Chef Remi's Catering, TooJay's Original Gourmet Deli, Cold Stone Creamery, Rocky Mountain Chocolate Factory, Uncle Julio's Fine Mexican Food, and Blue Martini.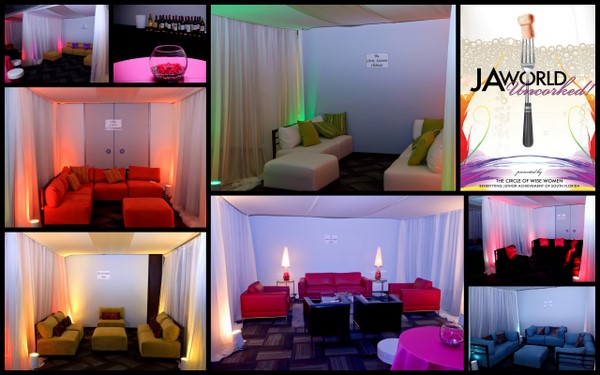 Over 30 wineries and spirits from around the world offered tastings of over 300 varieties, many of which were available for purchase through Crown Liquor. Silent auction items  included an all inclusive trip to Jamaica,  a one-of-a-kind 18 ct. white gold & diamond necklace provided by Daoud's Fine Jewelry, a Prada Leather Bag provided by American Express and a custom Vince Neil autographed Washburn Guitar.
The evening culminated in Finance Park with an extravagant Moulin Rouge themed party complete with can-can girls, stilt walkers, decadent desserts, aerial acrobatic shows and dancing to live music by the Steven Chase Band.  David Johnson, A Basket Affair,  provided the decor for the evening.
We could not have been successful without the following Wise Women,  Partners and Sponsors:
Stacie Weisman and JoLynn Lombardi were our Fab Event Chairs.  Honorary Chair and Le Chateau Sponsor was Lorraine Thomas. The Circle of Wise Women committee included Barbara Capeletti as Auction Chair, Kit Schulman as Decor Chair and Renée Korbel Quinn as Sponsorship Chair. Junior Achievement's Diana Metcalf coordinated the event for JA. Sponsor Photography provided by Jason Leidy, South Florida Photo.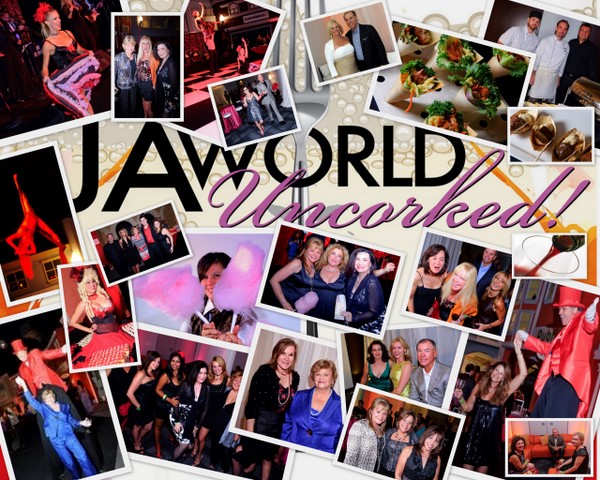 JA World Uncorked was presented by Southern Wine and Spirits and sponsored by Lorraine Thomas, Case Automotive Group, Citrix Systems, Janet & Karl Davis, FPL, Spherion and The Wasie Foundation.
Other sponsors included Renee Bush, QuinnProQuo, Barbara Capeletti PA, Tari & Edward Collins, Falcone Family Foundation, KPMG, Regions Bank, Toney Capital Holdings, Joy Tong & John Pulichino, U.S. Trust/Bank of America,  Linda & Doug Von Allmen, Peter Woolf, Cambridge Specialty, TLC Engineering and SouthFloridaFoodandWine.com
Merci à tous nos sponsors et des supporters pour faire de notre événement un succès! Les photos seront bientôt disponibles. Avec satisfaction.  Stacie & Jolynn
About our Passion:
More than 55,000 students learn about finances, banking, commerce, jobs, and work and much more through the 25 programs offered by Junior Achievement. The Circle of Wise Women's goal is to support these efforts. At JA World's facility two experiential programs focused on 5th grade and 8th grade students. After extensive in-class, curriculum driven preparation, the students come for an onsite visit where they are an "adult" for a day. The 5th grade students work in JA BizTowns learning to run a business and 8th grade students learn personal financial responsibility and budgeting; skills that every student should know to become a successful adult.