---
---
A former Banker, self proclaimed Media Socialista and now culinary Judge. Those that know me are not surprised, as my facebook is full of recipes and cooking adventures. I inherited my culinary talents from my Sicilian Grandma (heritage also includes French/ German/ English) and have a passion for food.  With a few successful events under my belt, I really enjoyed Judging this time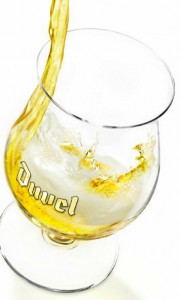 !
Last night we had the pleasure to attend and judge New Times' Pairings. The event was well planned, and the culinary offerings impressive! Truly outstanding culinary dishes and Pairings last night! Bravo to Jackie Carlson and her team at New Times. I was part of an impressive judging line up that included New Time's Laine Doss, South Florida Food & Wine's Christine Najac and  James Carras (his Greek Festival rocks!). We sampled over 40 different offerings and QPQ's favorite 7 (my lucky number!) are ….
1  Steak 954′s Cucumber Gazpacho with tasty lump crab meat was a perfect start to the adventure. Cool & crisp with just a hint of heat paired with Duvel Golden Belgian Ale.  This was my perfect pairing of the evening!
2  Rebel House's Lamb Belly was lush, rich and stood out among the contenders. Chef Mike Saperstein's perfection on a plate.
3  YOLO 's Chef Peter Boulukos really wowed with delicate Octopus Carpaccio, he presented the best plating at the event!
4  El Jefe Luchador's spicy succulent tacos de barbacoa with decadent truffle aioli… I would buy that aioli (hint hint).
5  Gelato Petrini's Cassata Siciliana was authentic and tasty, but the Fig and Honey just blew us away! and these cool decadent delights were perfectly paired with Caposaldo Sweet Pink Merlot Moscato.
6  The Grill on the Alley, melt in your melt short ribs with tangy mashed potatoes paired with Messenger Red Wine…ultimate comfort food dialed up a notch!
7  3030 Ocean | Sea Level  Both Chefs offered unique gastronomic delights and tied for the last spot on my list… Sea Level's gazpacho/avocado/rock shrimp in a shot glass  and  3030's Cobia topped with coconut foam was simply FAB. Perfect duo from Chef Dean Max's culinary team.
I have to mention two catering companies that really impressed! Another Perfect Party's Pistachio Truffle really popped  and Palate Party's Seared Crab Cakes rocked!
Official Results at Clean Plate Charlies Blog!
Special thanks to my husband, Mike. He planned out the route (3rd Floor, 2nd Floor, 1st Floor), kept me focused, made sure I had the correct pairings (with the perfect amount in each glass), gently pushed me along when I was too chatty and then drove me home!