---
---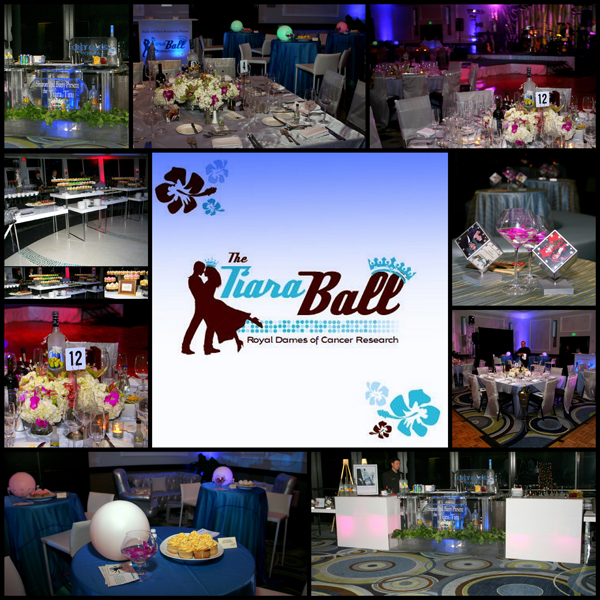 "A Time for Remembering" The Royal Dames Past, Present & Future
A Celebration of their membership & contributions to cancer research from 1969 to present
Janet Davis and Robin Hirschman, Royal Dames and 2007 Tiara Ball Chairs, contacted Renee Quinn in February of 2008 and asked her to consider chairing the next Tiara Ball.  With founding member and past President Lorraine Thomas set to be the Ruby Tiara Sponsor, she accepted the challenge.
The history of the Royal Dames was the unique story Renee chose to focus on.  She then called on her "Dream Team" to help make this an event to remember. Bill Stanton, Shai Zelering and Scott Schaefer at The Hyatt Pier Sixty Six, Doug Jones at Sixth Star Entertainment, Bob Drinon and Joe Marotta at Premier  Beverage (along with Bacardi & Brown Forman Alliance partners) signed up for the challenge. Kevin Lane coordinated the PR and Go Riverwalk magazine was the official media sponsor.
On Saturday, November 22, 2008, Renee and her Dream Team presented The 39th Annual Tiara Ball.  Guests were greeted with strolling violinists and a receiving line of past Presidents, Ball Chairs & Royal Dames.  Ball Chair Renee Quinn transported guests back to '69, for a unique  experience that started in the Circa 69 Lounge featuring a  Grey Goose themed Cocktail Bar and the signature Tiara-tini.  "Ultra Lounge" music and the Royal Reception set the mood for an amazing evening.
The doors opened to the elegant Crystal Ballroom Supper Club for  a surf & turf themed dinner paired with wines and cocktails. The evening celebrated the founding members and the present Royal Dames. They saluted their achievements over the years as displayed on Royal Dames Information Cards, Photo Cubes and other memories.  Past Tiara Ball Chairs were honored through former invitations displayed throughout the event.  Achievements in cancer research over the past 40 years were highlighted in creative cards on all the tables. VIP guests and sponsors enjoyed their own wait staff, mini bar sets on their tables and table gifts including both full size and miniature Grey Goose Bottles, Dewar's Signature Scotch and Banfi's Rosa Regale.  The Supper Club featured two Grey Goose Lounges with sixty's styled silver leather couches and colored orbs.  All guests enjoyed complimentary valet parking, miniature Grey Goose bottles and a the signature  Tiara Ball Journal.
The evening heated up as the Dames moved to the sounds of the seventies to celebrate Tiara Night Fever.  Performances included The Edge Band and special celebrity guest singer Harmik as Tom Jones.  An Over the Top After Party awaited late night guests at the Pier Top's revolving lounge.  Overlooking beautiful Fort Lauderdale, guests enjoyed  unique aperitifs paired with cupcakes, bourbon cotton candy, gourmet popcorn and an espresso station.
The Hyatt Pier Sixty Six offered a special Tiara weekend package for the Royal Dames.  On Sunday, guests joined together for a Pier Top Royal Champagne Brunch.  This indulgent experience included Blood Orange Mimosas, Grey Goose Bloody Marys and a  lavish buffet, family-style offerings and amazing desserts.   Proceeds for the evening benefited the Rumbaugh-Goodwin Institute at Nova Southeastern University.