---
---
The Riverwalk Trust hosted Fort Lauderdale's second annual Burger Battle Presented by Publix Apron's Cooking School Friday, May 13, 2011 on the Riverside Hotel Lawn in Downtown Fort Lauderdale
Some of the city's top restaurants competed, showcasing their creativity and grilling skills to over 1,000 guests. The event brought together local employees, residents and businesses for an evening of gourmet burger creations, cocktails and fun, while raising funds to support the Riverwalk Trust's mission of building and nurturing a vibrant community connected by the New River.
Attendees received an array of burger samples from local restaurants, plus three drink tickets to be used for any Barefoot Wine & Bubbly, Jack Daniel's Lynchburg Lemonade or Bud Light.  The voted for their favorite burger, enjoyed complimentary VOSS water and viewed a local celebrity slider eating contest sponsored by Krystal.
Guests enjoyed burger bites from Capital Grille, Morton's The Steakhouse, ROK:BRGR, Gilbert's 17th Street Grill, Johnny V Restaurant, Big City Tavern, Pelican Landing at the Hyatt Regency Pier Sixty-Six Marina, Chef Allen's Burger Bar, Riverside Hotel, Tarpon Bend, Timpano Chophouse & Martini Bar, Blue Plate at Seminole Hard Rock Hotel & Casino, Rare Las Olas, Hard Rock Café & last year's winner Georgie's Alibi.
The celebrity-packed judging panel chose the "Best Burger in Fort Lauderdale" after sampling each of the 15 creations. Our Riverwalk Trust Judge's Liaison,  Renee Quinn, returned to oversee the process. The panel included John Offerdahl, former Miami Dolphin &  restaurateur;  Eric Barton, editor of New Times Broward-Palm Beach;  Burger Beast,  well-known Miami food blogger;  Chef Director Jack Kane, Program Chair of Culinary Arts at The Art Institute of Fort Lauderdale;  Resident Chef Bil Mitchell of Publix Apron's Cooking School;  Chef Ralph Pagano, who recently appeared on Iron Chef opposite Bobby Flay & was a finalist on the hit Fox Network TV series "Hells Kitchen"; and our"People's Judges" Susan and Jack Seiler.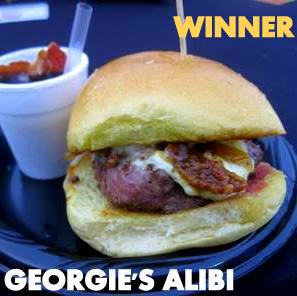 Our judges honored Georgie's Alibi with "Best Burger in Fort Lauderdale" bragging rights.  ROK:BRGR was chosen as the "Fan Favorite" by Burger Battle attendees. Read more from Burger Beast and South Fl Food & Wine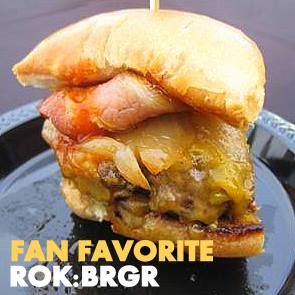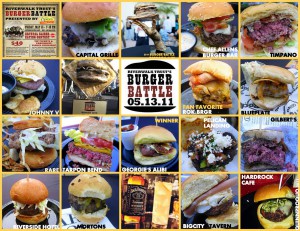 Burger Battle II event supporters included Publix Apron's Cooking School, Krystal, Riverside Hotel, Premier Beverage, Jack Daniel's, Barefoot Wines & Bubbly, Stephen's Distributing, Bud Light, BIG 105.9 FM, 93.9 MIA, Best Rental, The City of Fort Lauderdale, Gold Coast magazine, Scott Barfield Photography, Intown411, Southfloridafoodandwine.com, Las Olas Lifestyle, Edco Awards & Specialties, Inspiri24 Design Studios and Go Riverwalk magazine.
Publix at Plantation has the second Apron's Cooking School in Southeast Florida, which is the company's sixth school. A variety of classes featuring resident, celebrity, and local chefs, techniques and baking, wine education and kids' and teens' topics is available. The calendar of classes and registration information is available online at www.publix.com/aprons.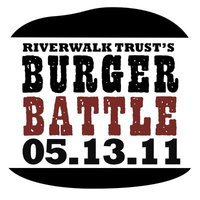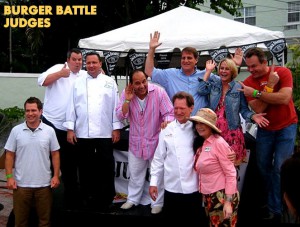 More about our judges:
Eric Barton

is editor of New Times Broward-Palm Beach, a paper known for its investigative journalism, criticism, and extensive dining coverage. This includes New Times' yearly award for Best Burger, which Eric is proud to help research. Eric isn't new to food-related contests — he's certified as a judge by the Kansas City Barbeque Society and has competed himself in barbecue contests (he makes a mean pulled pork). You can read his writing on the New Times food blog, CleanPlateCharlie.com.

Burger Beast

is a Miami Food Blogger who writes about his food experiences. Although the blog was created to find the Best Burger in Miami it has since gone on to include other types of foods, food coupons and deals, pertinent news, recipes and reviews of products. Burger Beast has developed a huge following for his food blogging and is known as one of the top burger experts in south Florida.

Chef John "Jack" Kane

, C.C.A. C.E.C. C.C.E. C.H.E., is the Program Chair of Culinary Arts at The Art Institute of Fort Lauderdale. Kane has more than 25 years experience in the food and hospitality service industry in a variety of top restaurants and resorts. He was chef instructor at The Art Institute of Fort Lauderdale from 2003 to 2004 and taught bachelor's and associate's degree seeking students. He then went to Le Cordon Bleu College of Culinary Arts in Miami where he was the Lead Chef Instructor.  In addition to his current position at The Art Institute of Fort Lauderdale, Kane currently serves as President of the American Culinary Federation Greater Miami Chapter and intends to begin a student chapter at the college.
Former All-Pro Miami Dolphins linebacker,

John Offerdahl

& his wife, Lynn, currently operate seven quick-casual restaurants aptly named Offerdahl's Café Grill – restaurants that feature "fresh-baked, JUST-GRILLED, all-day great food!"  Offerdahl's Café Grill is also the home to the Gridiron Griller, John's alter-ego personality!  This griller-of-the-gridiron persona developed from John's love of the tailgate and backyard BBQ experience.  Prior to his career with the Dolphins, John attended Western Michigan University and graduated with a degree in biochemistry.  John has been involved in many community service organizations across South Florida and is currently the chairman of the board for the National Christian Foundation of South Florida, is a board member of the Florida Restaurant & Lodging Association and a member of the Orange Bowl Committee. He enjoys speaking to schools, church groups and other organizations, sharing his experiences in football and business as well as his personal life.
Chef Ralph Pagano recently appeared on Iron Chef opposite Bobby Flay and also was a finalist on the hit Fox Network TV series aptly named "Hells Kitchen" where he worked elbow to elbow with Chef Gordon Ramsay cooking and creating gourmet food under fire. He has owned and operated two successful restaurants and a full service catering company as well as gourmet take away store and prime meat market in the Hamptons. He has appeared on Iron Chef America, where he competed against and lost to Iron Chef Bobby Flay. More recently he has appeared in the food/travel reality show Pressure Cook on the MOJO HD cable network channel.  He has gained noteworthy accolades with his executive chef roles at New York City's West Broadway Restaurant, Bobby Van's Steakhouse and as both owner and chef of The World Pie Restaurant Group. Ralph has created a cult following and is set to try and feed the world.

Resident Chef Bil Mitchell

has been climbing the ladder of culinary excellence since his high school days in New York. He has worked at and managed various American regional and seafood restaurants in Ohio, Virginia and Florida. Bil gained additional experience when he began teaching for Apron's Cooking School in Sarasota. He has taken advantage of the opportunity to learn from guest chefs such as Todd English, Wolfgang Puck, Rachael Ray, Paula Dean and John Ash. Under the expert eye of Corporate Chef Tim Donnelly, Bil has attained the professional experience needed to excel as our first promoted Apron's Resident Chef.
Local residents and celebrities

Susan and Jack Seiler

will bring the personal touch to the tasting.  Jack is an attorney and Susan is the driving force in the Seiler family for organizing, programming and leading their active and engaged batch of children.  As the "people's judges," they'll provide a different perspective.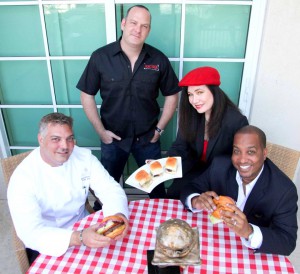 About Riverwalk Trust Riverwalk Trust serves as the catalyst in building and nurturing Riverwalk as a vibrant community connected by the New River. Riverwalk Trust accomplishes this mission through advocacy on behalf of the Riverwalk Park, communication through its Web site and Go Riverwalk magazine, its diverse offerings of events and its membership activities. Riverwalk Trust is currently pursuing projects to enhance and protect the integrity of the Riverwalk community, such as design guidelines for thoughtful development, funding for capital improvements and park enhancements, park programming and sustainability, management and final completion. It is our goal to create a public space in Downtown Fort Lauderdale, where the many functions of community life can take place, where people feel ownership and connectedness and where they perceive their riverfront park as true common ground. In short, we strive to create a great waterfront place where people want to be.  For more information or to get involved, visit www.GoRiverwalk.com, or call (954) 468-1541.
About Publix Publix is privately owned and operated by its 141,000 employees, with 2009 sales of $24.3 billion. Currently Publix has 1,017 stores in Florida, Georgia, South Carolina, Alabama and Tennessee. The company has been named one of FORTUNE's "100 Best Companies to Work For in America" for 13 consecutive years. In addition, Publix's dedication to superior quality and customer service is recognized as tops in the grocery business, most recently by an American Customer Satisfaction Index survey. For more information, visit the company's website, www.publix.com.