---
---
Increase YOUR visibility and engagement with your audience by creating a consistent and compelling message and delivering it precisely through the most effective medium.
QuinnProQuo's communication strategies focus on three areas:
The Brand» a consistent message requires consistent presentation

Create a Brand "Bible"
Logos, colors, mission, tag Line, collateral and images are key
The Message» crafting a message in a way that promotes a reaction

Create targeted core message »» What to Say
Develop release strategy »» When to say it
The Medium» use the appropriate channel for the appropriate message

Social Media via Facebook Pages » Facebook Groups » Twitter »  Blog » Google + » Foursquare » Instagram » Flickr » Pinterest » You Tube » LinkedIn
Traditional Print Media via Press Releases
Broadcast Media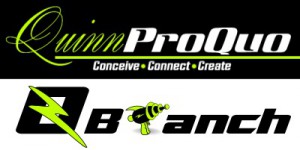 QuinnProQuo's  experience in creating excitement for a brand, event or product line will translate into an awareness of your  company as the destination for people that want to be in the know! We will develop a custom marketing strategy that centers on efforts to create content that attracts attention and encourages readers to share your message with their social networks. We provide a flexible, scheduled plan based on your budget and goals.
QuinnProQuo regards communication as an integral part of business strategy, and believes the ROI of developing an effective plan is well worth the investment. Contact us for more information!