---
---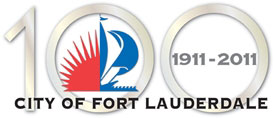 Happy Birthday Fort Lauderdale!
The City of Fort Lauderdale will turn 100 in 2011! To mark this momentous occasion, the City Commission established a Centennial Celebration Committee. This volunteer committee is in the process of planning events and projects to celebrate Fort Lauderdale's past, present and future in 2011.
About the Centennial Celebration Committee
Chaired by former Mayor and U.S. Congressman E. Clay Shaw, the Centennial Celebration Committee is comprised of 21 Fort Lauderdale residents with ties to the local business, historical, educational and cultural communities. Committee members will draw on their diverse backgrounds and areas of expertise to plan an inclusive commemoration that appeals to residents, businesses and visitors.
In planning for this momentous historic milestone, the Centennial Celebration Committee has been gathering input from residents, businesses and local organizations to create a celebration that pays tribute to Fort Lauderdale's past, present and future. The Committee is in the process of finalizing their recommendations to the City Commission for a yearlong celebration of citywide events and activities. The Committee plans to present its final recommendations to the City Commission later this year.
The Centennial Celebration will showcase Fort Lauderdale's rich cultural heritage through a series of exciting events and educational programs. The Committee is compiling a list of residents that made the most significant contributions to Fort Lauderdale and they are asking for suggestions from the public. The nominees can be from any period of Fort Lauderdale's history.
Centennial Events
Plan to celebrate the Centennial with us! The City will host several free events throughout the year to commemorate Fort Lauderdale's 100th Birthday. The City will also partner with local organizations to sanction other events around town. The following is a list of events scheduled to take place during the Centennial celebration, so mark your calendar. To learn how to become a sanctioned event please call (954) 828-4743.
2010
December 9 – Unveiling of Official Centennial Poster by Charles Fazzino
December 11 – Winterfest Boat Parade
December 19 – Christmas Pageant, First Baptist Church
December 31 – Centennial Downtown Countdown
2011
January 14 – Fort Lauderdale Woman's Club Ribbon Cutting Ceremony
January 15 – Fort Lauderdale Woman's Club Bubble Que & 100th Birthday Celebration
January 28 – First Baptist Church Centennial Breakfast
January 30 – Dr. Paul George Intracoastal Waterway Boat Tour
March 4 – History Fair
March 12 – St. Patrick's Day Parade and Festival
March 24 – Mayor's Prayer Breakfast
March 26 – Dr. George Bonnet House Tour
March 27 – Birthday Party, 100th Anniversary of the incorporation of Fort Lauderdale
July 4 – Centennial Fourth of July Celebration on Fort Lauderdale Beach
December 31 – Centennial Downtown Countdown