---
---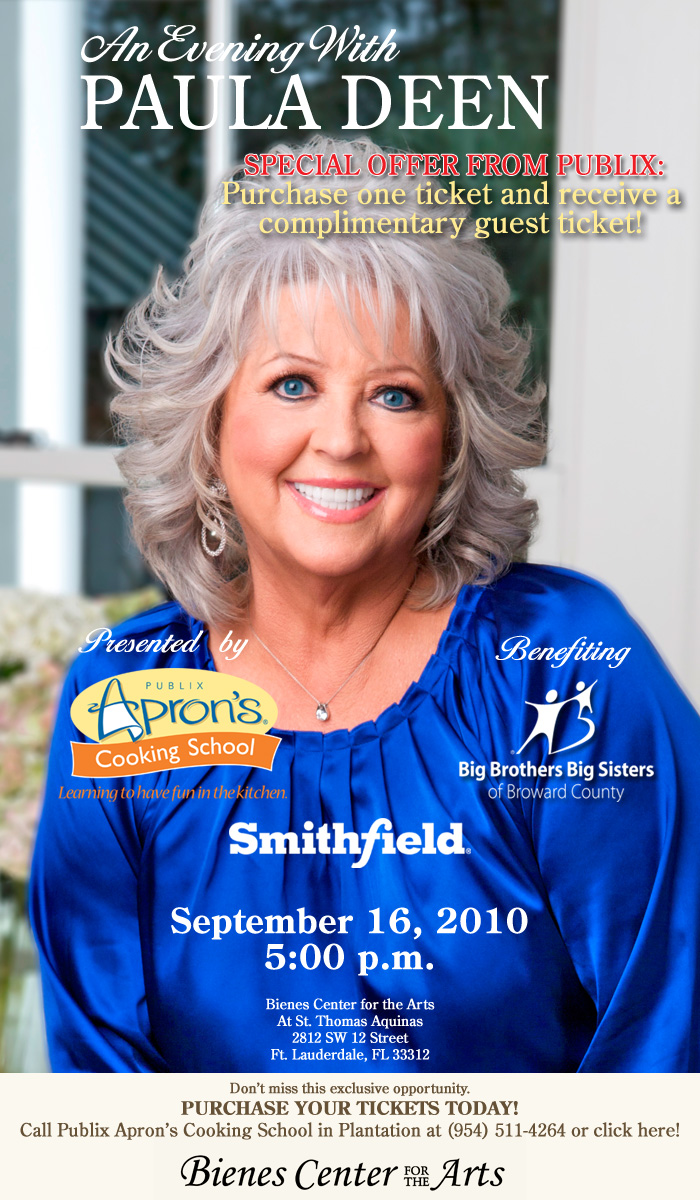 Mark your Calendar, Thursday, September 16, for  "An Evening with Paula Deen!" Presented by Publix Apron's Cooking School, benefiting Big Brothers Big Sisters of Broward County. Call (954) 584-9990 for more info!
CLASS TYPE / FORMAT / COST – Celebrity Chef / Demonstration / $150


INSTRUCTOR(S) – Paula Deen,  Celebrity Chef, Cookbook Author, and Television Host


LOCATION – The Bienes Center for the Arts, St. Thomas Aquinas High School, 2801 SW 12th St., Ft. Lauderdale


DATE & TIME – Sep 16 / 5:00 p.m.
You'll love this evening with Paula Deen. Paula is a self-made success story who learned the secrets of Southern cooking from her grandmother. Newly divorced with only $200 to her name, Paula and her two sons moved to Savannah. There she started her own catering business, The Bag Lady, where she prepared fresh lunches to sell to downtown. Her specialties (chicken pot pies, barbecue sandwiches, lasagna, and banana pudding) quickly became the talk of the town.
In 1990, Paula opened her own restaurant, The Lady and Sons, which could seat 42 customers. In 1995 she relocated to downtown Savannah, where The Lady and Sons has been ever since. The Lady and Sons has gathered accolades from critics and media alike. The most important honor for Paula was when the food writer for USA Today named The Lady and Sons "Most Memorable Meal of the Year for 1999." Paula's business continues to flourish with a series of successful cookbooks.
MENU – A buffet of Paula's recipes will be served.
FOCUS – This evening will benefit Big Brothers and Big Sisters.